In this article I'll be reviewing the Sunday Scaries CBD products; CBD Gummies, Vegan CBD Gummies, CBD Candy, and CBD Oil Tincture.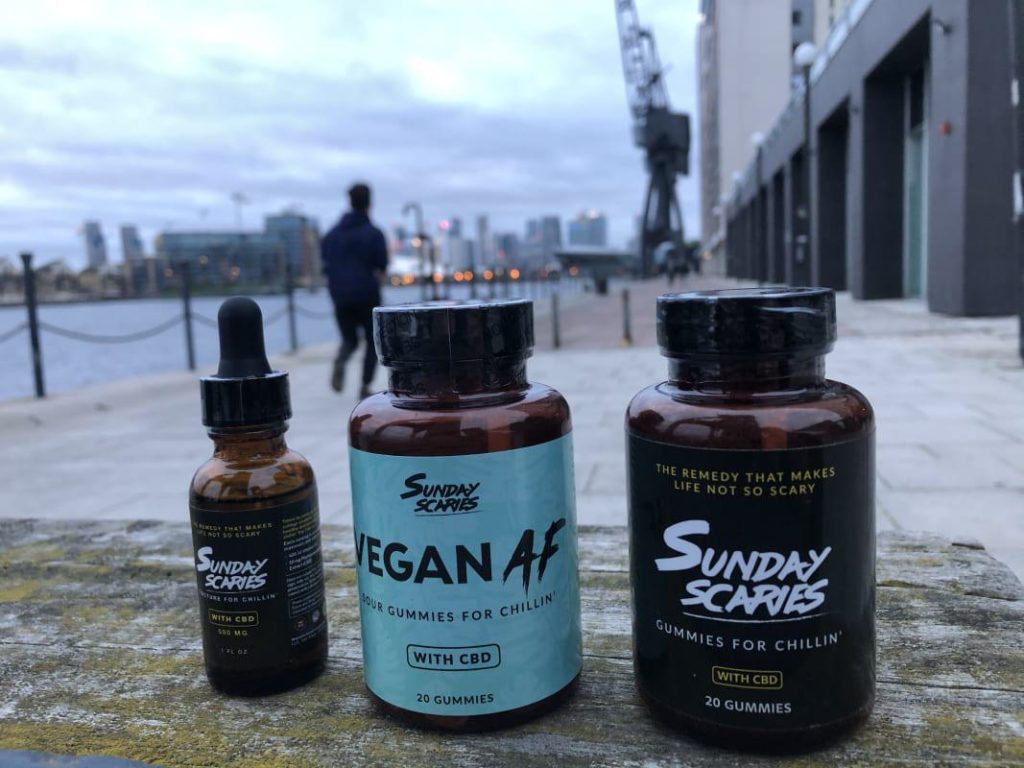 One of the reasons why I wanted to try these was the current imbalance in my work-life routine. I wanted to unmind things, and when my friend talked about her experience with Sunday Scaries and how their product, precisely CBD Gummies helped her I wanted to try these as I have been fed up with my constant stressed-out nerves. In this article, I have given discussed my experience with Sunday Scaries' products. It actually worked wonders but let's find the details below.
Before digging into the review let me first introduce this brand to you all.
About The Brand -Sunday Scaries
Sunday Scaries – the name of this product, defines the purpose of the product here. Sunday Scaries is the state of anxiety that creeps in the Sunday afternoon when the thought of the coming week crosses our minds. That's anxiousness is exactly what the brand aims to tackle and what could be a better means than CBD. CBD has gained a massive reputation in helping people deal with stress and anxiety and relaxing them which further enables them to have a good time without the interference of that stupid overthinking machine commonly known as the brain.
SundayScaries is a relatively young but well-known CBD company. It was established by two bar-owners -Mike and Beau – who were facing a lot of stress and were suggested CBD. When CBD helped the two gentlemen cope with their lives, they thought to help others going through similar situations.
This gave birth to Sunday Scaries and its name.
Detailed Product Reviews
Sunday Scaries CBD Gummies
CBD Gummies by Sunday Scaries is labeled as 'Highest-Rated' on their website, and rightfully so. I was left amazed when I opened the packaging to find little, sweet-smelling gummy bears. Upon trying the first gummy bear, it was quite obvious that the product does not use artificial sweeteners, which is the best thing for someone like me and has the perfect amount of CBD per gummy bear. The gummies were soft and chewy and easy to eat, they come in different colors.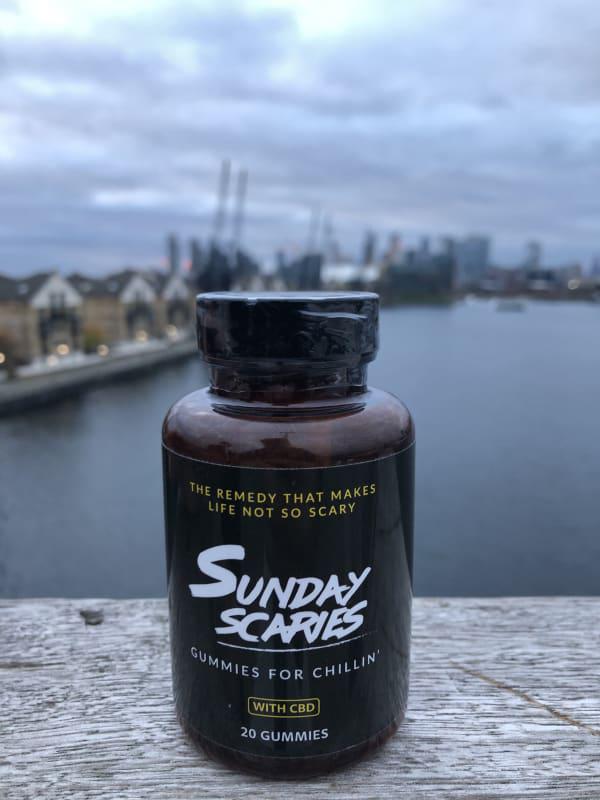 I have been a frequent CBD consumer and I have consumed it in a variety of different forms, so when I say that Sunday Scaries CBD gummies are one of the tastiest and best ways of consuming CBD, I am talking based on my experience.
Each gummy bear contains approximately 10mg of CBD. Upon checking the packaging, I came to know that it even contains Vitamin B12 and Vitamin D3. And the best part was that it uses pure sugar cane extract.
The effect these gummies had on me was magical. I could literally feel my muscles eased and my mind clear up after having a couple of gummies. My nerves relaxed and my stress level lowered visibly, therefore for me it's a go-to anti-stress remedy.
CDB Vegan Gummies
Having vegan friends, I always hear them complain about not finding vegan products. Especially when it came to CBD, they had to search for weeks to find a company offering vegan CBD edibles, but that too at the expense of taste and the amount of CBD. Thus, these vegan CBD gummies came like a blessing not only for me but also for them. I suggested them these gummies the next day of trying them out myself.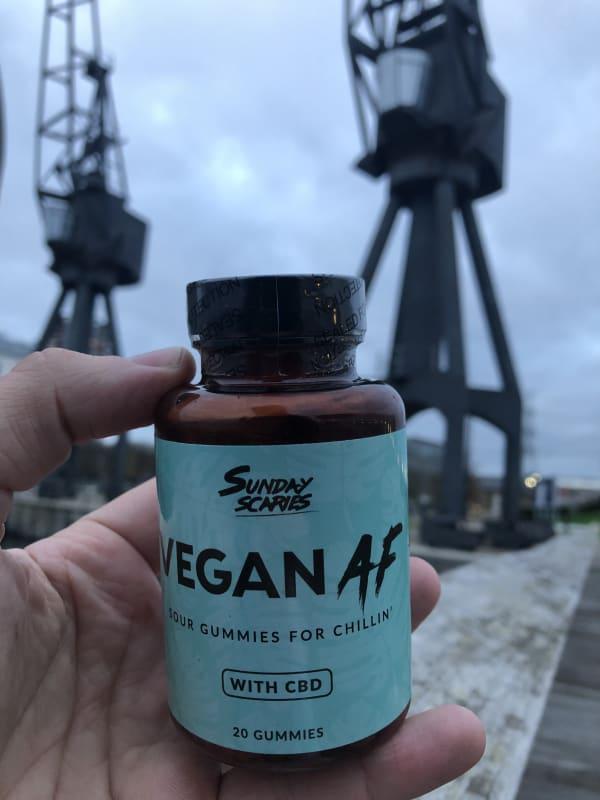 These gummies contain broad-spectrum CBD oil, corn syrup, citric acid, fumaric acid, coconut oil, vitamin D3, and vitamin B12. Here is the major plus, they do not have wheat, soy, peanuts, shellfish, egg, or any other allergen. Also, they have zero gluten and zero FMO.
They are given the shapes of gumdrops shaded in different colors each of which offers a different flavor from lemon, lime, cherry, and tangerine. These gummies have a sour coat which adds a twist to the main flavor. It even contributed to freshening up my mood.
These gummies can be taken at any time of the day. I took them with evening snacks and I won't be lying if I say my evening had never been as fresh and energetic. It really kicked away all my stress and gave me a good time for myself. This also helped me strengthen my social circle as I could more positively interact with the people around me.
Thanks to the company for the careful packaging that made it convenient to carry these vegan gummies anywhere I wanted. The bottle's size is quite appropriate for my bag, though the total serving of 20 gummies seems a bit less as I can never get over these.
Sunday Scaries CBD Oil Tincture
This organic CBD oil tinctureis the purest CBD oil I have ever come across. It is composed of broad-spectrum CBD oil, coconut oil, vitamin B12, and vitamin D3. The coconut oil and the vitamin content add to the consistency and flavor of the oil. They also enhance the healthiness of the oil. The vitamin B12 strengthens the nervous system by regenerating the nerves and keeping them calm. While vitamin D3 boosts the immune system and combat various diseases. Thereby, with this oil, I did not only kick away my stress and anxiety but also probably some diseases that I wasn't aware of.
It mainly has a plain flavor but the coconut oil adds a mild tropical taste which goes perfectly with almost every other beverage. I have tried it with tea, simple water, shakes, and juices and it fit them all, in fact, enhanced their taste.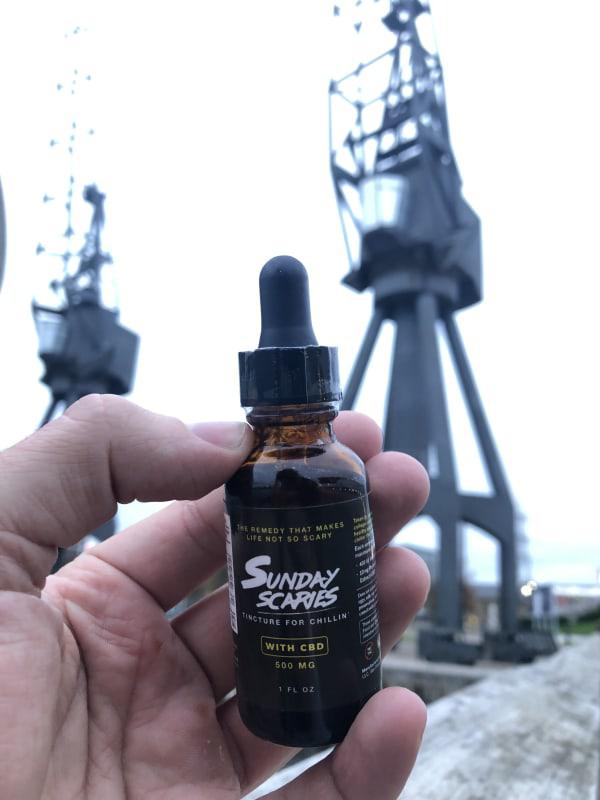 The bottle contains a whopping 500 mg of CBD evenly suspended in the tincture. The dropper made it super easy to manage the amount per dose. The recommended dosage is 1/3 of the dropper that offers 10 mg of CBD whereas the whole dropper can hold up to 30 mg. You can manage the dosage as per your need.
I took it an hour before sleeping with some type of tea or simple water throughout the week and the effects were long-lasting as I felt relaxed and calmed for an hour or two till I slept. it took thirty minutes to start showing the calming effects and I could feel all the worries go away. This helped me quickly drift to slumber and have quality sleep. As a result, I woke up more refreshed and energized and could easily focus on my work.
CBD Candy – Unicorn Jerky
Sunday Scaries CBD Candy is an exciting and thoughtful way of consuming CBD. These are multicolored strip-shaped candies that offer a burst of tutti-frutti flavor and are sugar-coated which was an extra treat for my taste buds. Although I do not usually prefer tutti-frutti flavor, finding it in a CBD product made it a bit different and more exciting.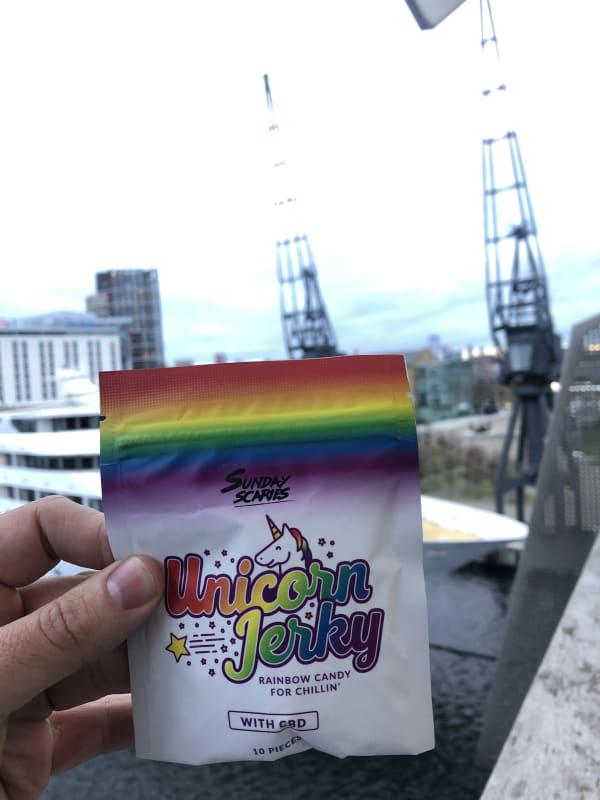 It can also be taken at any time of the day. I took it on my way back home from the office and unlike any other day entered the house with a light and fresh mood even after a 45-minute drive. I could give myself some quality time without worrying about the previous or the next day. This became my routine for a week till the candies lasted as I took one candy every day and often two when needed.
Here is the best part of the candies. They are dedicated to a very important social cause, the wellbeing of LGBTQ, an issue that needs immediate support from the entire nation. A lot of young souls are dying almost every day due to stress and anxiety given by society or self-insecurities. Julia, the sister of the brand's founders, also took her life. This encouraged the gentlemen to come up with a product that can fulfill the needs while helping others.
For every purchase of the CBD candy, the brad donates £1 to The Trevor Project – the project started to save young LGBTQ lives.
Conclusion
Sunday Scaries is a young but impactful organization working towards the betterment of the nation in all ways possible. It produces an array of CBD products that are highly effective for relieving you of excessive worrying and give you a relaxed and composed mind and they also have a money-back policy if you aren't satisfied.
Its CBD candy contributes to the wellbeing of LGBTQ while the vegan gummies ensure an animal-friendly production and packaging. Moreover, these products all together offer a stress-free and healthy life which is filled with positivity and confidence.
All in all, this company has mostly been rated five stars for their products by their customers which makes them a reliable brand. I'd rate them 4 stars just because there was still room for improvement considering their charges.