In this review, I'll be reviewing Thrive Flower's wide range of CBD products. These include CBD Pain Relief Salve, CBD Lotion, CBD Muscle Gel, CBD Dog Treats, CBD Flower, CBD Gummy Bears, CBD Oil for Pets, CBD Vape Pen, and Full Spectrum CBD Oil.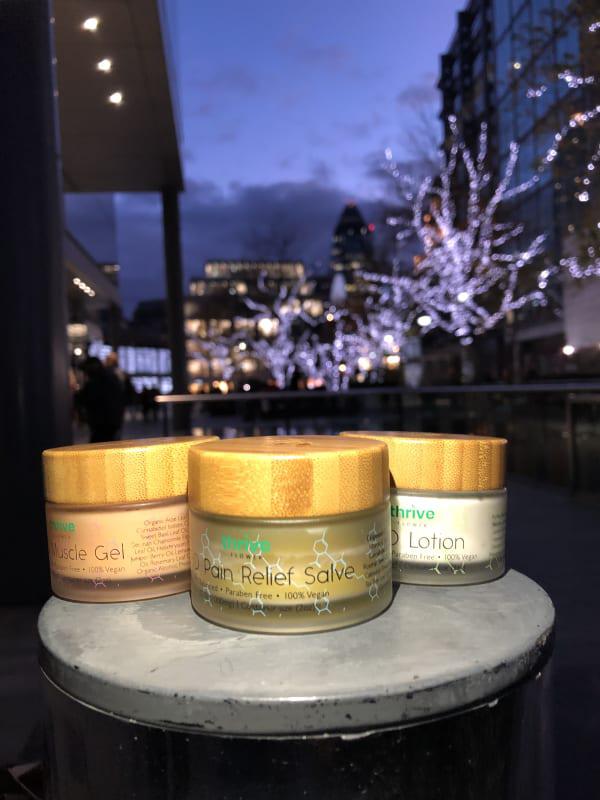 About Thrive Flower
Thrive Flower is a Philadelphia based company and is the home to the finest CBD products in all of the US. Thrive Flower aims to ensure people around the states benefit from the relaxing effects of CBD and live happier and healthier lives.
The company's dedication can be seen from the fact that each of their product is thoroughly tested in Labs and is always fine-tuned before they're sent out. Besides, you no longer have to worry about your product's quality since the company provides you with the lab results. Thrive Flower has a wide range of products, and even your pet dog can benefit from the effects of CBD.
Full Review of Thrive Flower's CBD Products
For this review, I decided to start with the CBD gummies. CBD gummies are a fun way to get your daily dose of CBD, and more importantly, they're my favorite.
On having a look at the Thrive Flower CBD Gummies' jar, it was of excellent quality, and much to my surprise, the labels were stuck on properly and didn't come off even though I often carried it around.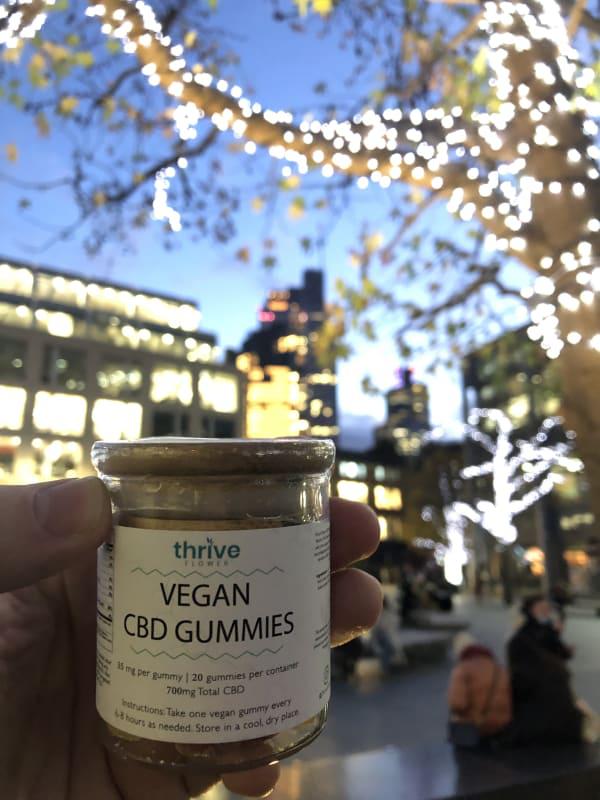 Each jar has a whopping 1750 mg of CBD with 35 mg of pure CBD per gummy. I popped one gummy bear in the morning for this review and immediately felt a luscious strawberry-like flavor. There are 3 flavors in the CBD gummy bears, including strawberry, orange, and lemon, all in one jar.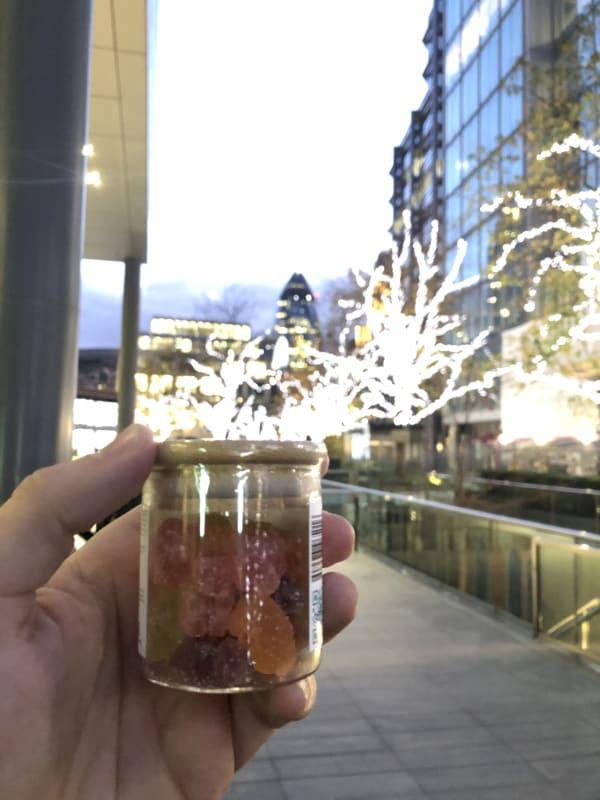 The taste was unlike any others merely due to the purest of ingredients used in the gummy bears. Within a little over 20 minutes, I felt a sudden wave of relaxation and was more relaxed before starting my day off at work.
I'd be lying if I said I didn't make this a part of my breakfast because the purest CBD isolate used in these gummies kept me productive and more focused on my tasks. The effects lasted for over 3 hours approximately.
CBD Pain Relief Salve
On having a good experience with the CBD gummy bears, I had no doubts in my mind about the effects and working of the CBD pain relief salve. The constant workload from the busy day at work lead to severe lower back pain and honestly speaking, the CBD pain relief salve was a blessing in disguise.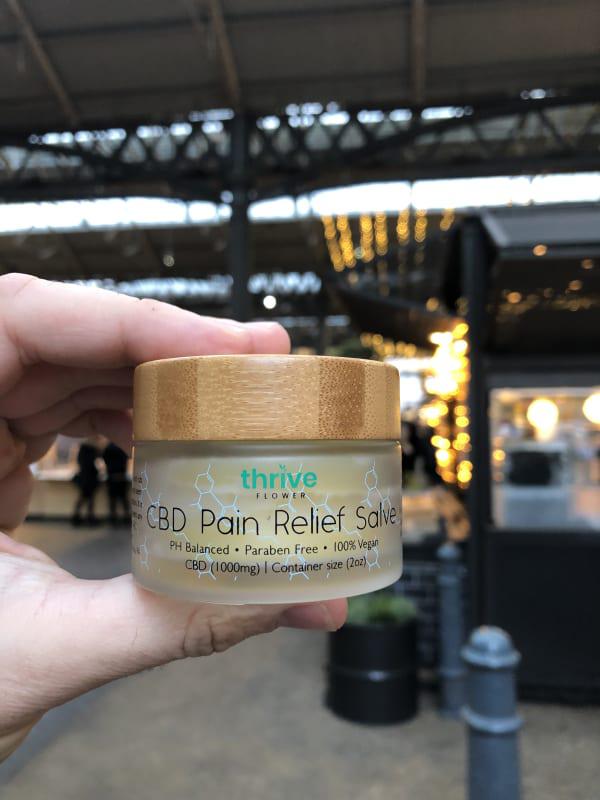 Packed with a whopping 1000 mg of CBD, this pain relief salve is aimed to target pain-affected areas and do its wonders. With only a single application, I noticed the pain going away. Although I was a bit skeptical at first, within roughly 30 minutes, I forgot about my pain. It was no longer there.
The pain relief salve really serves its purpose. What's incredible is that the container comes in a bag-friendly size and can be carried around on the go.
CBD Lotion
I'll be honest, this was my first time trying a CBD lotion, and I wasn't quite sure what its effects would be. On having a look at the container, the CBD lotion comes with the purest of ingredients that are lab tested, and only then is it sent out to the potential customers.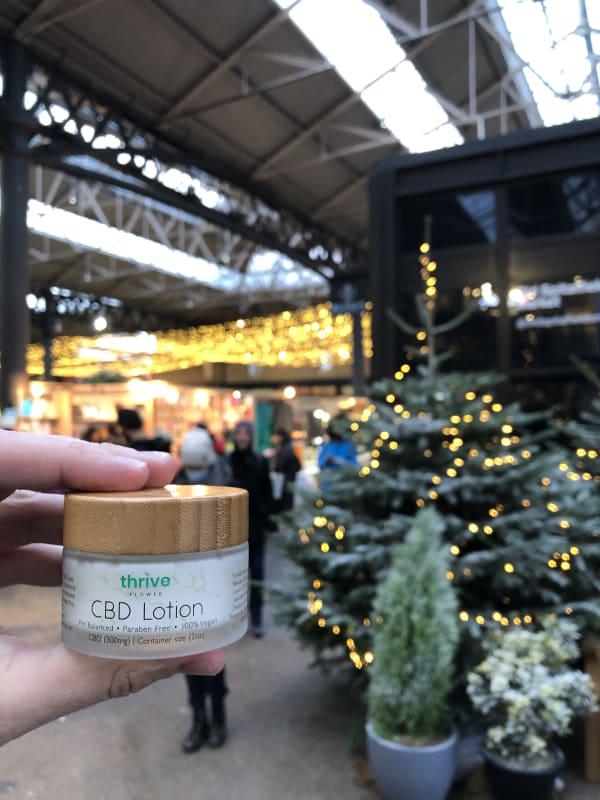 On trying out the CBD lotion, it not only helped with surface level pain relief, but frequent usages also improved the overall condition of my skin. It also helped with muscular pain, and to be honest, its kind of made me sleep better as well.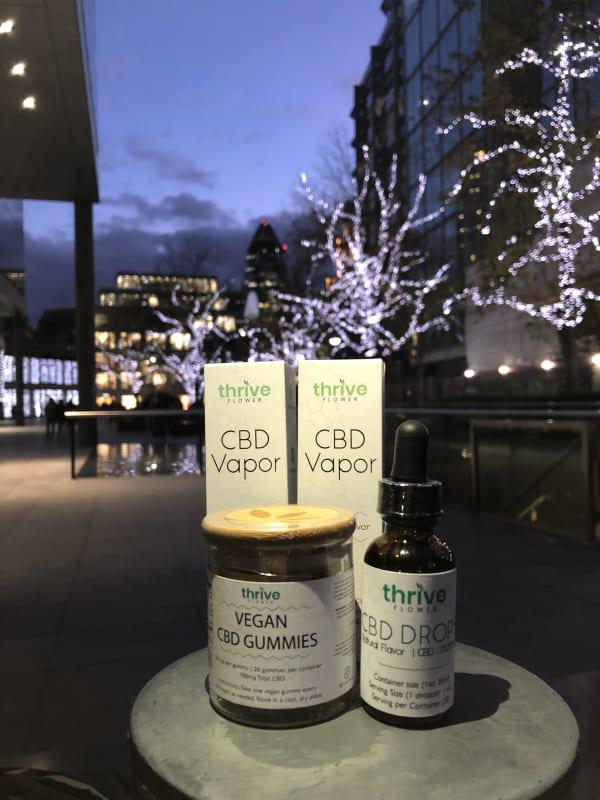 Thrive Flower CBD Lotion is an entirely vegan, GMO free, and paraben free formula. It is ideal for everyone, and you do not have to worry about its ingredients whatsoever.
CBD Muscle Gel
This has to be the best muscle gel across the states. Packed with a whopping 500 mg of CBD, this Muscle Gel provides spot on pain relief. Notice that I said spot on? It targets the specific area where you have pain and provide you relief from it.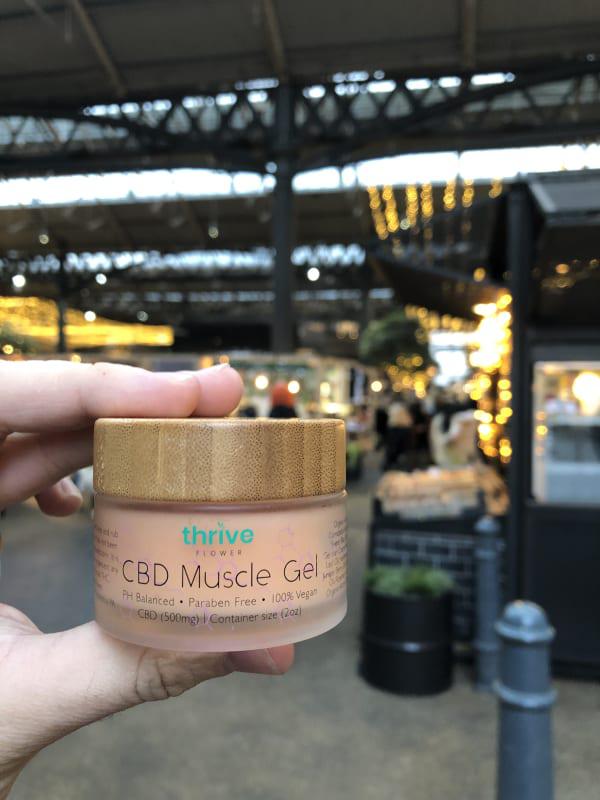 The effects were almost immediate, and quite frankly, I had trouble choosing between the CBD Muscle Gel and Pain Relief Sleeve. CBD Muscle Gel has an icy sensation and has a cooling effect. If you're not a big fan of the icy feeling, you can use the pain relief sleeve.
I found the effects of CBD Muscle Gel more pleasant due to the cooling effect, but it could be because the days are kind of warm with the sun out.
I'll start it off by saying, "my dog, jack, absolutely loved it." With a taste of bacon, my dog kept wanting more. Although CBD based dog treats are relatively new, but they're entirely safe for your pet dog.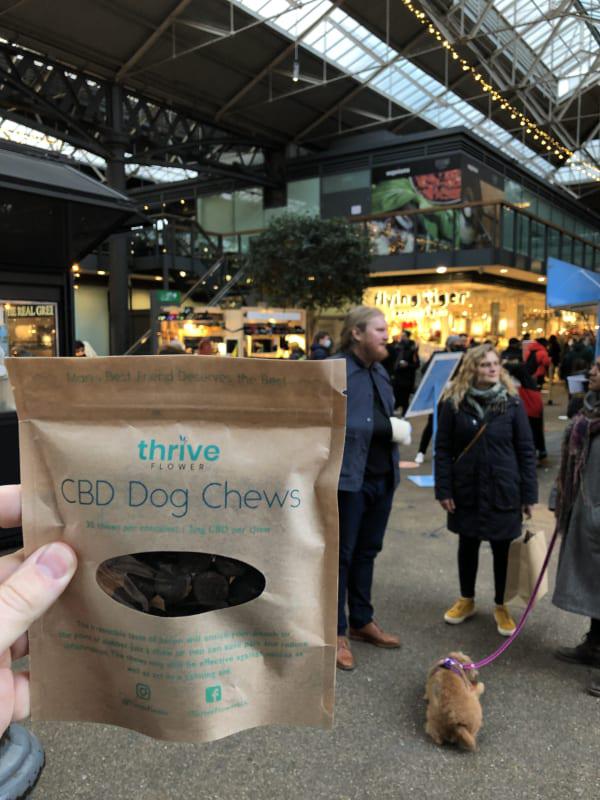 It has only a minimal amount of CBD per pouch, with 2 mg of CBD per chew and 60 mg of CBD per bag. My pet dog seemed to love the taste, and from what I observed, he was more energetic after taking these dog treats. Since it is a relatively new product, I had to see the ingredients.
The ingredients are in the purest form and similar to the other products. Dog treats are also non-GMO and contain vitamins, antioxidants, and mainly organic ingredients. These are perfectly safe for your dog, and while you eat your CBD Gummies, your pet dog will also be able to benefit from the relaxing effects of CBD.
CBD Flower
Smoking CBD is one of the best ways to experience CBD. The effects are more direct and can be intense than other means of CBD intake. Thrive Flower's CBD Flower strain is by far the best from what I've experienced with other brands.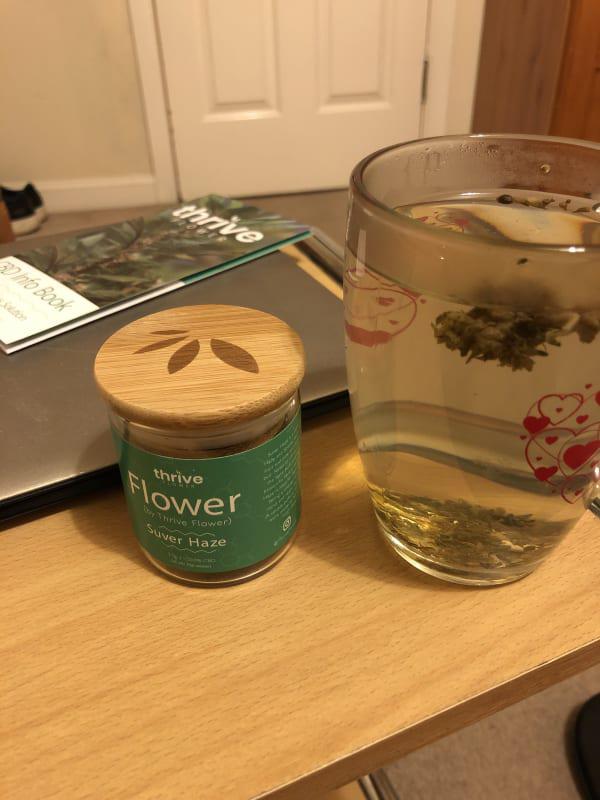 I tried this before going to bed and what I really loved about this strain is that it burns at a much lower rate, thus allowing you to receive your daily dose of CBD for a more extended period. The effects were long-lasting, and honestly speaking, I had the best 8-hour sleep that night.
Although you will be needing a dry flower vaporizer to experience the most favorited strain. Thrive Flower – Flower strain comes in different volumes and you can choose from ½ Oz, ¼ Oz, and 1/8 Oz.
CBD Oil for Pets
After gummies, CBD oil is my 2nd favorite. When I saw this CBD oil for pets in the package, I was thrilled because my dog can finally get his own CBD oil. It comes in 750 mg of CBD strength and has all-natural ingredients that are GMO and paraben free.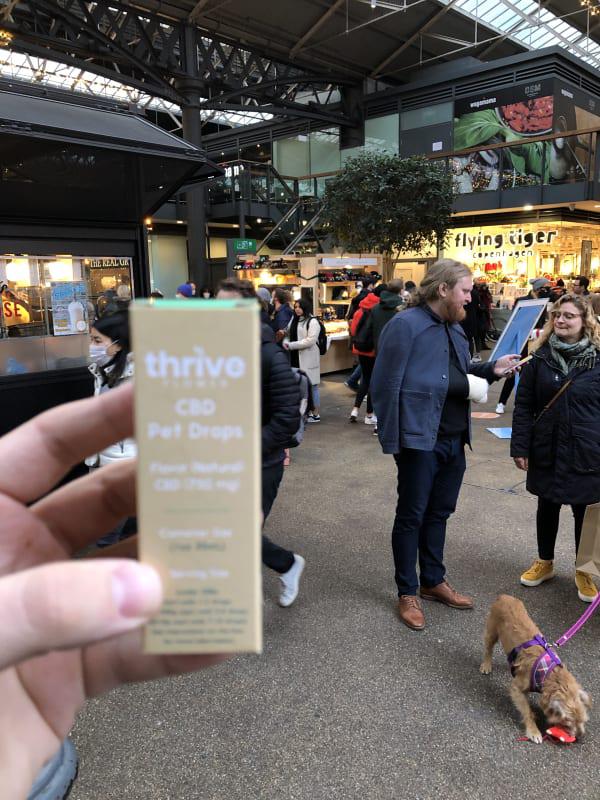 I started off in small doses and experimented with how much CBD will be enough for my dog. Each drop has 0.8 mg of CBD, and it needs to be consumed based on your dog's weight. For pets under 20lbs, you can begin with 1-2 drops, pets 21-45lbs start with 3-6 drops, and for pets over 45lbs, you can start with 7-10 drops.
CBD Vape Pen
Smoking or vaping is the best way to experience and receive the effects of CBD. Thrive Flower offers disposable Vape Pens that are easy to carry and can provide you with an immediate dose of CBD.
These contain a whopping 200 mg of CBD per pen and are ideal for multiple dosages since a normal dosage is usually around 30-40 mg of CBD. I received the Blue Raspberry flavor and absolutely loved the choice of flavor and how good it felt.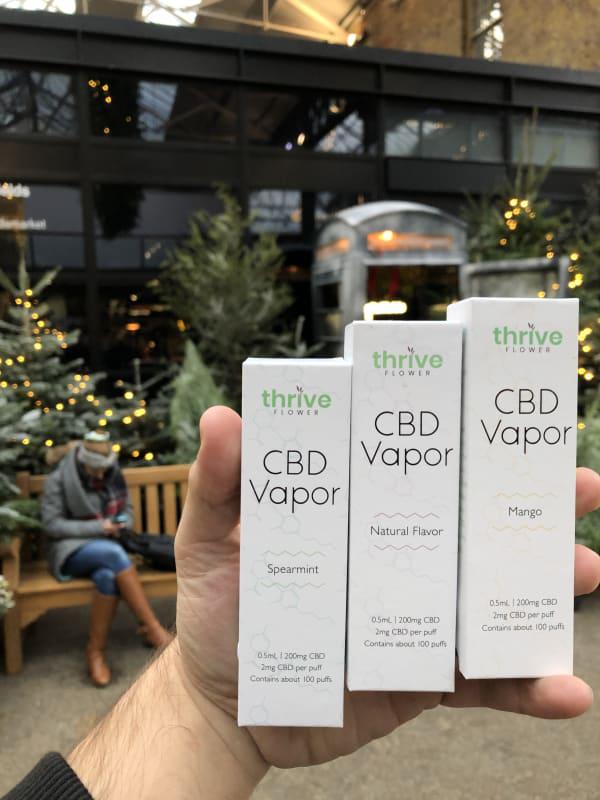 The other flavors include Mango, Natural, and Spearmint Lime. The CBD Vape pen is super easy to carry around, and it reassured me that stress relief is just a few puffs away. I frequently found myself puffing my way out of stress.
As you might know, CBD oil tincture is my 2nd most favorite means of getting that vital dose of CBD. It comes in 750mg, 1500mg, and 3500mg strengths of CBD. The ingredients in this CBD oil tincture are entirely vegan, all-natural, GMO, and paraben-free. I've always been a fan of the more direct means of CBD application since, with CBD oils, all you need to take is a few drops under your tongue.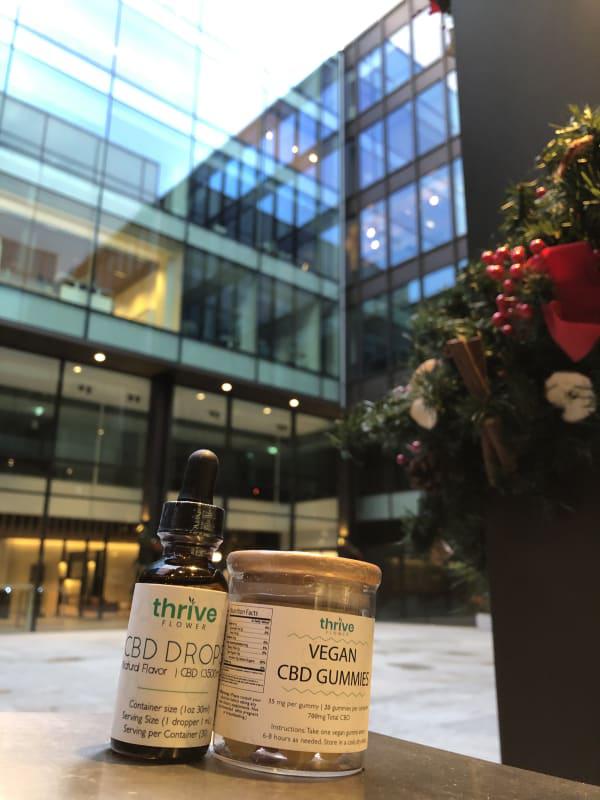 I absolutely loved the coconut-like flavor and used this as a resort to get my daily 8-hour sleep. From the night I tried this oil tincture, I slept like a baby and woke up with significantly raised energy levels.
Conclusion
The brand Thrive Flower thrives on providing you with the purest form of CBD and ensuring you stay relaxed, stress-free, and happy every single day. The products are of superior quality, and even the labeling and tags were stuck on properly.
I frequently resorted to the products with my week-long review and loved how precise and effective each product was. I absolutely recommend these to everyone who is looking for stress relief and needs to stay relaxed and more productive to get through the day.