In this article, I'll be reviewing JustCBDCBD Coconut Oil Tincture, Hemp Seed CBD Oi Tincture, Full Spectrum CBD Oil Tincture.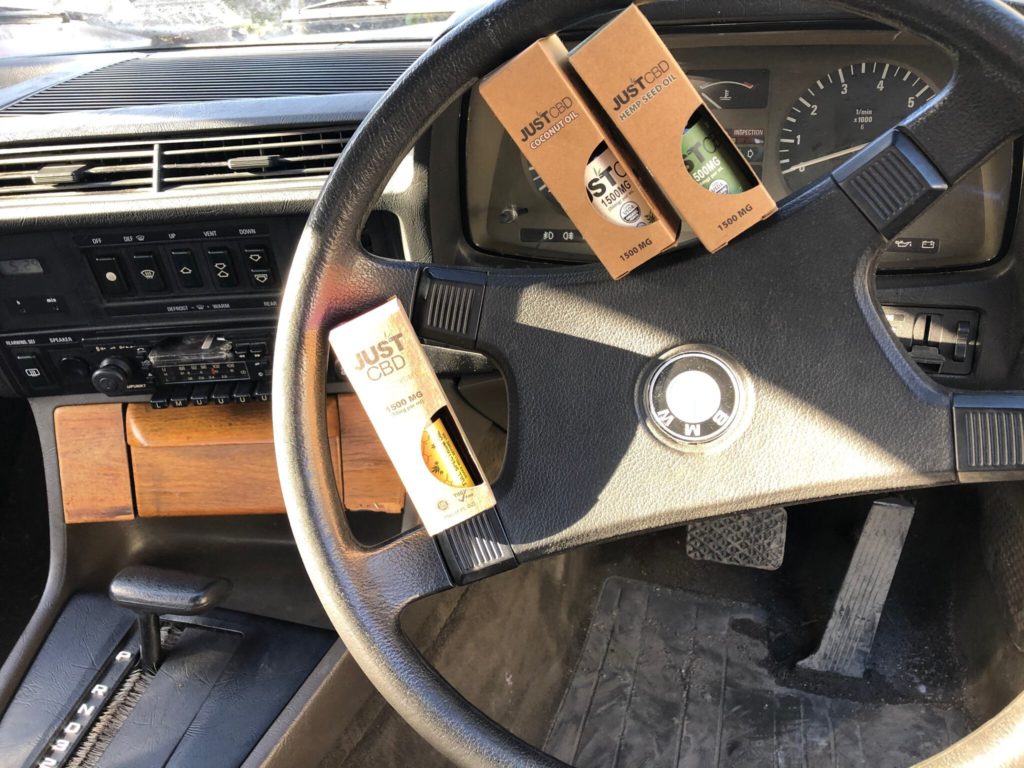 JustCBD is one of the most famous and reliable CBD brands, which is personally my favorite. CBD is quite closely related to THC as they have a common source. However, CBD, unlike THC offers exceptional health benefits without getting you high. Although it is an extraordinary advantage, it puts users at a higher risk of being misguided or having to bear a significant influence of a tiny mistake.
For instance, you might be careful with your CBD intake but your producer might have mistakenly exceeded the recommended dosage of THC in your CBD products. As a result, you'll feel dizzy or get high, which has its side effects. Such a mistake can also be deliberate in some cases where deceivers intend to use CBD as a psychoactive substance.
With such prevailing conditions finding a trustworthy brand that offers quality and extra-level transparency is extremely daunting. When I discovered JustCBD, which was through its sales team, 50% of these fears vanished. Speaking to the dedicated sales team alone said a lot about the company. Then I researched its views online which further pushed me to try their products.
In this article, I'll be sharing my honest views about some of its products I recently reviewed.
About The Company
JustCBD aims to distinguish CBD from THC and gives it the recognition it deserves that has always been concealed and neglected due to the dominant negative effects of THC. The company's foundations are laid on the basis of the belief that CBD is a pure gift from nature and we must avail of its benefits. Holding true to its beliefs the company has produced some of the highest quality CBD products that at least I can blindly rely on.
However, to maintain transparency the brand offers lab test reports with all of its products to keep the consumers informed of what they'll be consuming -which is the second biggest aim of the company. It wants to remain as transparent as possible so that the users are well aware of the content of their CBD products.
JustCBD has been featured in a number of publications including MERRY JANE, Hudson Valley, Las Vegas Weekly, thus you can easily find all about it from the internet.
Packaging
Before moving on to the main products I'd like to appreciate the input the company has dedicated to packaging. The oil bottles are provided in cardboard boxes that are designed on different themes. For example, the full spectrum CBD oil box is painted in different colors including pink, orange, yellow, green, and a lot of others. The same is the shade on the bottle. Similarly, the coconut oil box and bottle feature a beachy theme.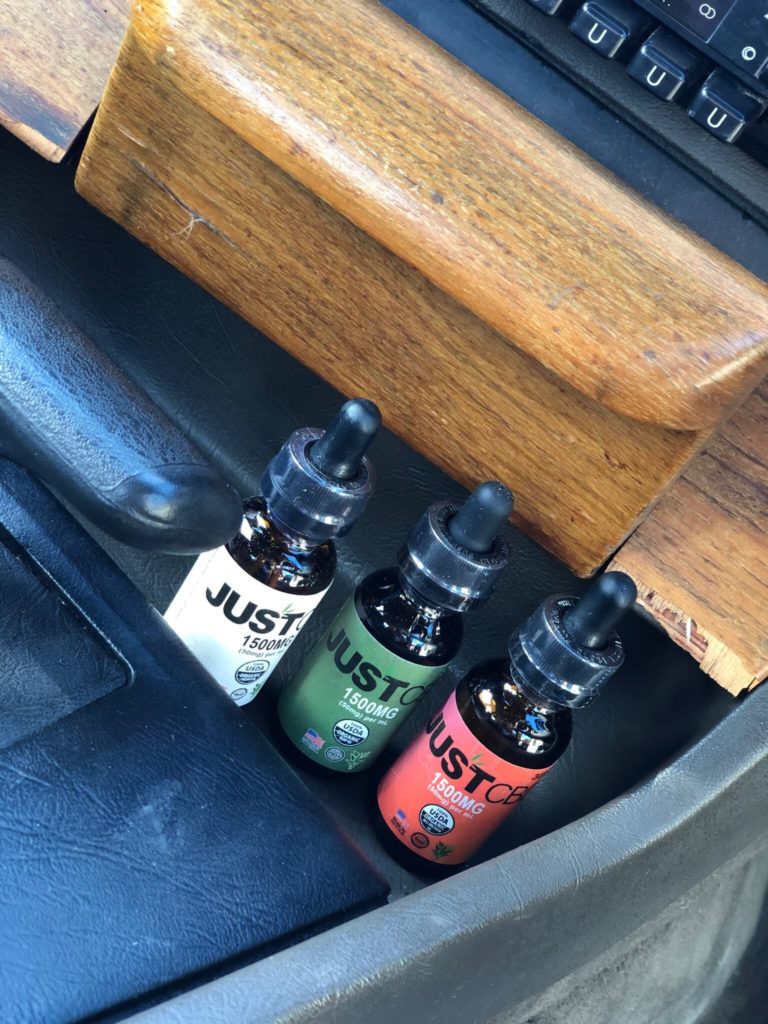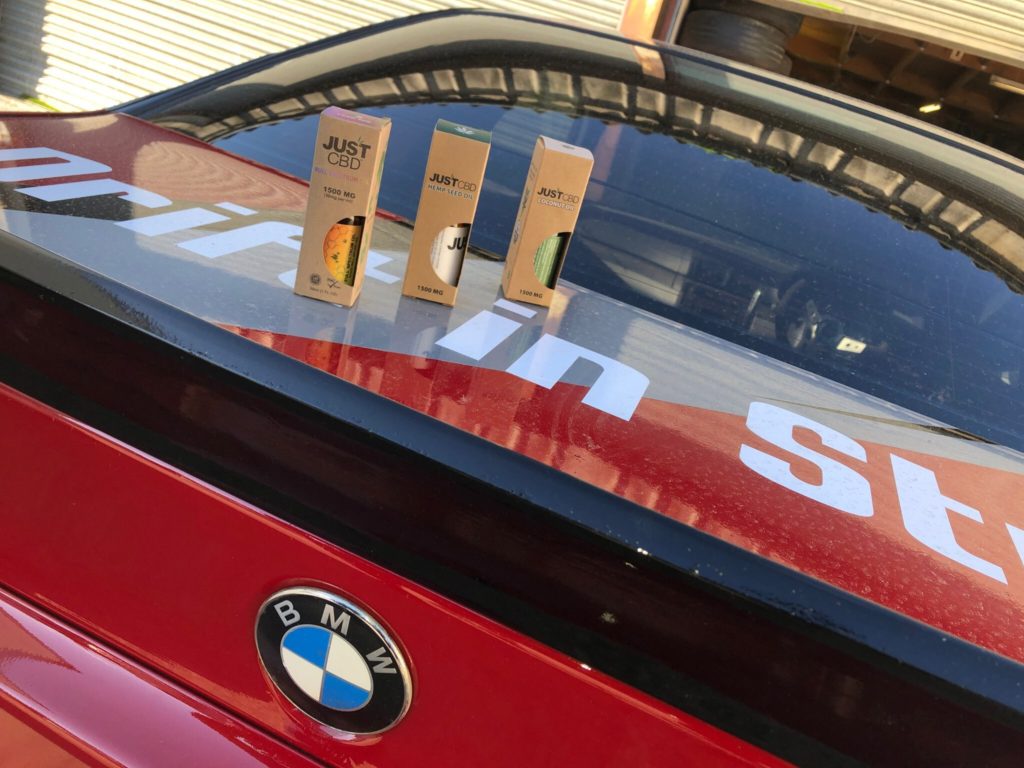 They are attractive yet minimal. You'll only find the required information on the boxes and the bottle -nothing extra. The best part is that the labels remain perfectly in place. Dealing with oil we often accidentally spill a drop or two on the bottle which reduces the stickiness of the label and overtime displaces the entire label. But that's not the case here. I have emptied more than half of the bottle so far and the label is rightly in place.
Complete JustCBD Oil Tincture Product Reviews
Hemp Seed CBD Oil Tincture
JustCBD's Hemp Seed oil is one of the purest oils I have come across so far. It is free of harmful chemicals and synthetic ingredients that might impose dangerous side effects in long run. In fact, it is only composed of natural hemp seed oil and broad-spectrum CBD.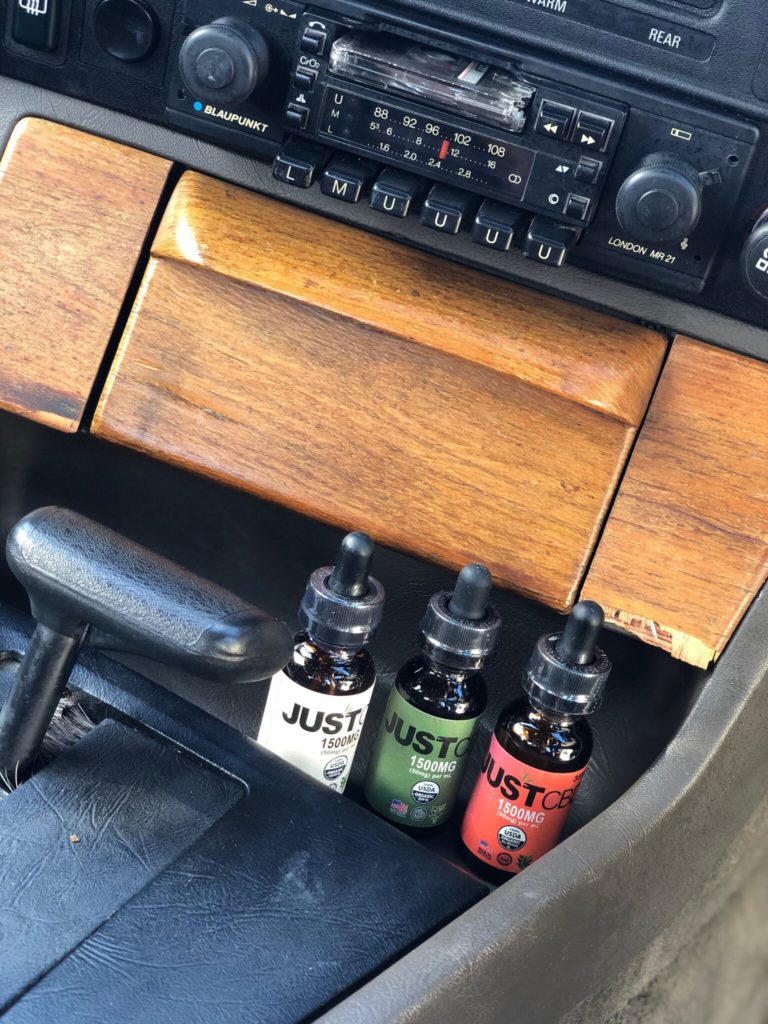 Both of these ingredients are loaded with health benefits when consumed in the right amount. Hemp seed oil caries a variety of minerals, vitamins, and antioxidants that are necessary for good health. Whereas, broad-spectrum CBD is known for its calming properties that relax your mind and body.
And I really felt this calming effect as the oil processed its way through my body. the day I decided to try it actually turned out to be a little tough at work, which really put me off for this review. But then I decided to go with it anyway. All it took were two drops and 20 minutes to calm my mind and eventually my body. The other day I took it an hour before sleeping, although I usually do not have trouble with sleeping, but did elevate my sleep quality and I felt fresher in the morning.
These oil bottles are available in sizes ranging from 50-1500 mg. I got 550 mg and I'd suggest you take a small bottle and try out its effects on your system before jumping to a bigger one. One thing I like about these bottles is that I can easily carry them around in my bag.
You can consume the Hemp Seed Oil directly or mixed with food. Since it had a slightly earthy taste, I tried consuming it in both ways. When taking directly, use the droplet to place two drops under your tongue. You can also combine it with food like cookies, shakes, etc. I mixed it with shakes and orange juice.
Coming across this tincture had me questioning the difference between the broad spectrum and full-spectrum CBD oil. Upon a little research, I found that broad-spectrum oil tinctures are free of THC, while Full-Spectrum CBD oil contains almost all the compounds of the hemp plant including THC (in officially permitted amount), cannabichromene, cannabidivarin, cannabinol, etc. it also contains high amounts of vitamins, essential fats, and amino acids.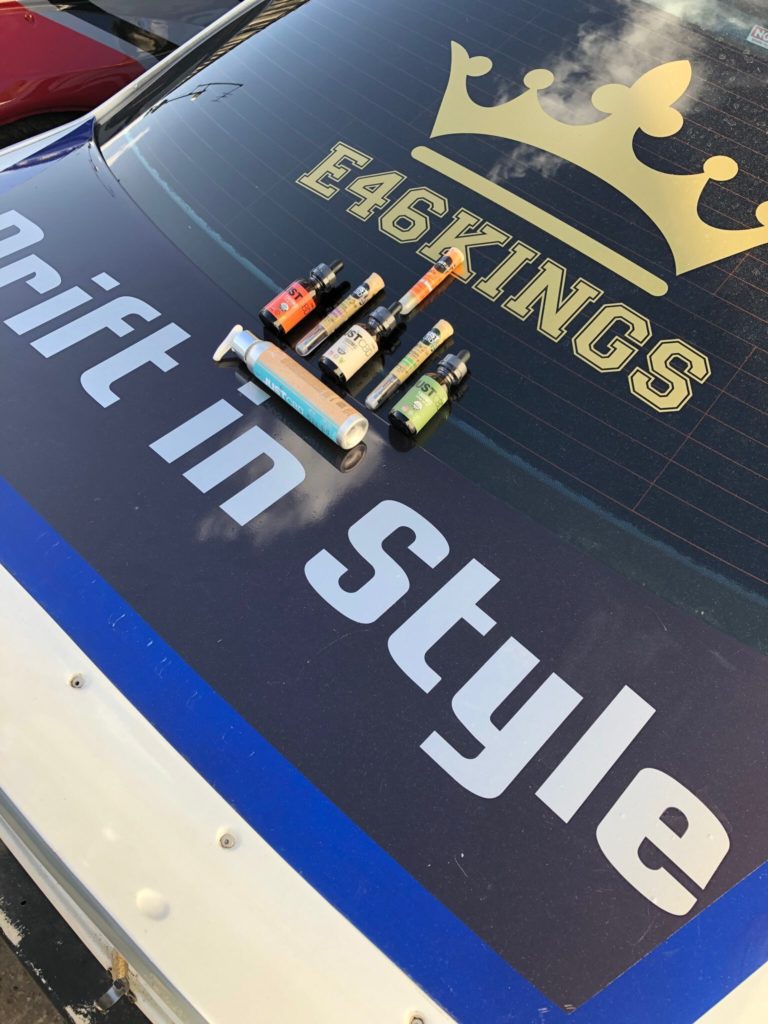 Thus, full-spectrum CBD oil is for those who wish to enjoy the benefits of the hemp plant in its totality. JustCBD offers its full-spectrum oil in bottles varying between 50 and 1500 mg, which makes it easy to choose your required bottle size.
The dropper further eases getting the right dosage. Its maximum capacity is 1 ml which means 18.33 mg of CBD. Moreover, it also has some dosage marks on it which makes it even easier to get the required dosage.
Unlike the earthy taste of the hemp CBD oil, this was a little mild and I didn't mind taking it directly. Though you have the option to mix it with food. In fact, I kept it in my bag for whenever I might need it, especially when traveling. You can also use it before bed or in the morning.
When I was provided with the tincture its working time given to me was 20-45 minutes. However, I started to feel its calming effects a little before 20 minutes and by the end of 40 minutes, my body was entirely relaxed. I no longer felt any exhaustion even after a tiresome day. The first time I took it sometime before sleeping and hence could not feel how long its effect lasted but I remember waking up calm in the morning. The next day I took it at lunch and could feel its effect last for about 3-4 hours.
Like the other JustCBDoil tinctures, this coconut oil is also available in sizes between 50 and 1500 mg. it is composed of water, cannabidiol, and MCT Oil. I think water and cannabidiol do not need any more coverage but the MCT oil is worth mentioning here.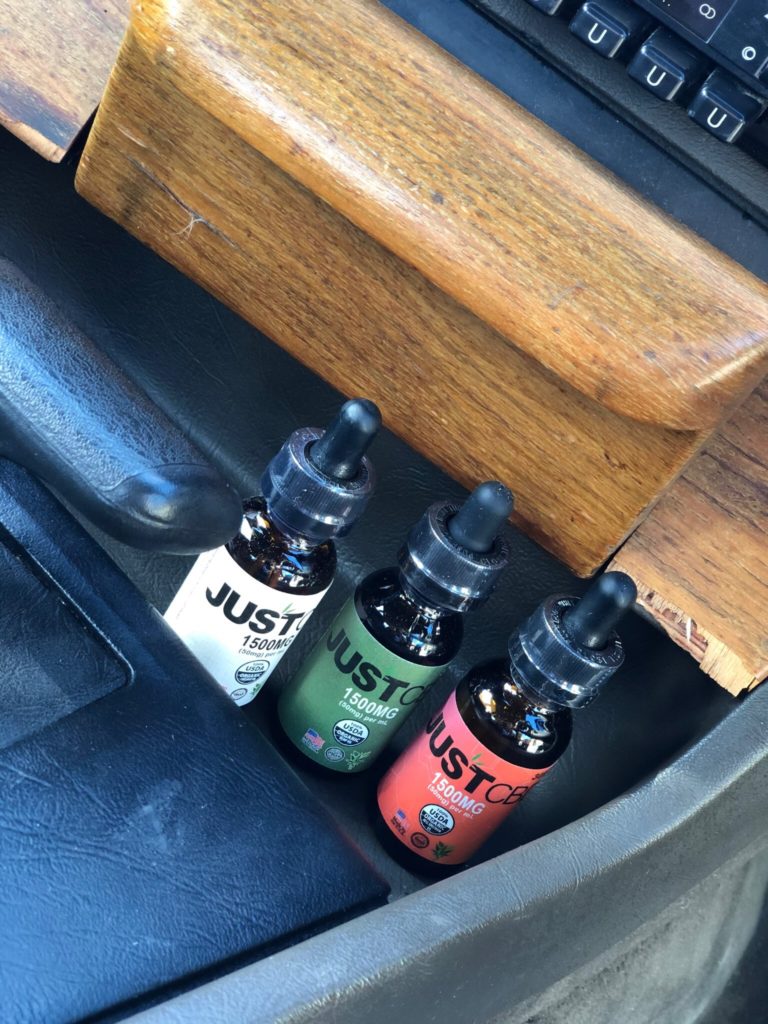 MCT oil is generally loaded with health benefits. It improves memory, reduces cholesterol and blood sugar levels, boosts endurance, and a lot more. Especially when it is mixed with the touch of coconut these benefits become flavorful.
I liked the coconut flavor it leaves in the mouth and adding it in drinks enhanced their flavor too. Thus, if you are not a fan of earthy hemp or mild full spectrum oil this can be a great option. You can consume it directly by placing it under your tongue or add it to food. Though if you aim to instantly feel its effect, it is better to take it directly.
This tincture was the fastest and most potent energy potion. Though it has the same working time of 20-45 minutes, the effects are extraordinary. The energy level I experienced after only two drops of this tincture was considerably more than the other two. Since two drops were enough for me, I did not exceed the dosage, but if you wish to consume higher dosages, you should slowly move towards the required limit.
Conclusion
JustCBD oil tinctures are one of the easiest and the quickest way to consume CBD oil. The labeled dropper makes things even easier as you have an accurate measurement of what you are consuming. You can add these oils to food or take a few drops directly under your tongue. But remember to move slowly from lower to higher dosage. These organic tinctures are an excellent way for a healthy life. CBD coconut oil elevates energy like none other. Full-spectrum oil wipes away any traces of exhaustion, whereas hemp CBD oil perfectly calms the body and mind.